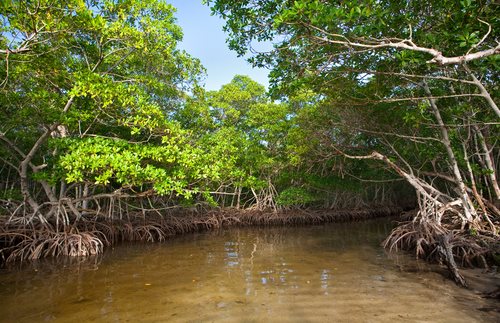 On November 30, 2012, the EPA approved nutrient pollution standards established by the Florida Department of Environmental Protection (FDEP) to protect waterways from excess amounts of nitrogen and phosphorus. The two nutrients are the main source of water quality problems in Florida and can cause huge algal blooms.

The new rules under FDEP create numerical limits for nutrient pollution in springs, lakes, streams, and certain estuaries. The EPA examined the state's adopted rules and found they are equal to the Clean Water Act and other federal regulations.

The EPA found that the FDEP's numerical limit method was technically and scientifically effective and even more effective that the state's former methods. The numerical limits adopted by the state for nitrogen and phosphorus are equal to limits in EPA's 2010 rules. FDEP has also adopted biological and chemical measuring methods that can identify and prevent nutrient pollution downstream. The biological and chemical information will help the state determine if an area is in need of restoration.

EPA Regional Administrator Gwen Keyes Fleming stated: "Nutrient pollution threatens human health and the environment, hurts businesses, costs jobs, reduces property values and otherwise impacts the quality of life for all Floridians. Clean water is vital for Florida and EPA commends FDEP for taking this significant step towards protecting and restoring water quality across the state."

The Clean Water Act gives states the responsibility to protect their water quality. Yet, the EPA will still continue to impose two federal nutrient rules because of the 2009 consent decree between the EPA and the Florida Wildlife Federation. The FDEP's rules do not cover some parts of the state, so the EPA will impose federal nutrient levels in these areas as well.

One of the rules enforced by the EPA regulates the amount of nutrient levels in estuaries, coastal waters, and streams in South Florida. The second federal rule enforces limits in inland waters.

The EPA is open to public comment on the new rules during sessions in Tampa from January 17 to January 18, 2013. Public commenting is also available on the internet from January 22 to January 24. The EPA is required to officially approve FDEP's rules by August 31, 2013. Coastal rules need approved by September 30, 2013.

Florida has just recently adopted rules for estuaries in state's panhandle, and the EPA believes FDEP will submit new rules for these uncovered areas that meet standards under the Clean Water Act.

Source: Environmental Protection Agency
Comments
comments