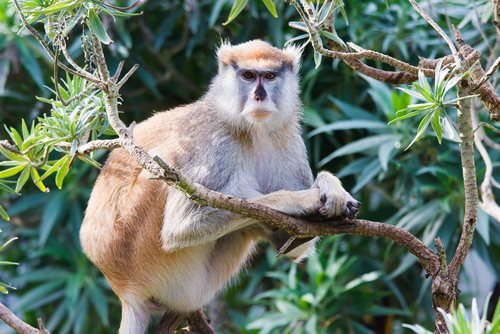 On November 19, 2012, the Boise Police announced the arrest of Michael J. Watkins. He is currently in custody of the Washington County Sheriff's Office in Weiser, Idaho, and the monkey's death is tied to a break-in and burglary at the Boise Zoo on the morning of November 17, 2012.
Police were called to the Boise Zoo at 4:30 a.m. on November 17 because a guard spotted one man inside the zoo and another outside of the perimeter fence. The two men fled as after they saw the security guard, and a search of the zoo proved the men fled.
When officers and employees searched the zoo, they found a Patas monkey near the perimeter fence inside the zoo. The monkey was severely injured with blunt force trauma to the head and neck, and it died within a short time after discovery.
During the investigation, Boise Police found blood evidence and a baseball cap belonging to one of the suspects. One of the suspects, Watkins, was arrested after the police used different pieces of evidence and tips from helpful citizens.
The Charges against Watkins
Watkins is charged with two felonies: burglary and grand theft.
Burglary is defined under 18-1401 of the Idaho Statutes:
"Burglary defined. Every person who enters any house, room, apartment, tenement, shop, warehouse, store, mill, barn, stable, outhouse, or other building, tent, vessel, vehicle, trailer, airplane or railroad car, with intent to commit any theft or any felony, is guilty of burglary."
Grand theft is defined under 18-2407 of the Idaho Statutes, and the following subsection applies to Watkins:
18-2407(b)
"A person is guilty of grand theft when he commits a theft as defined in this chapter and when…
18-2407(b)(7)
The property taken or deliberately killed is livestock or any other animal exceeding one hundred fifty dollars ($150) in value."
Why Patas Monkeys are Protected at Zoos
Patas monkeys are not endangered or threatened, but they are protected for several reasons. For one, they are hunted in areas of Africa for their meat or because they're damaging crops. Additionally, the growth of cattle grazing in Africa and the increasing amount of farmland in the African savanna areas has seriously decreased the habitat for the Patas monkeys.
Chief Michael Masterson with the Boise Police Department stated: "I speak for many of us in the police department and the community who were angered and outraged over this senseless crime. The loss of this Patas monkey has touched many lives, including our officers and investigators."
Source: Boise Police Department