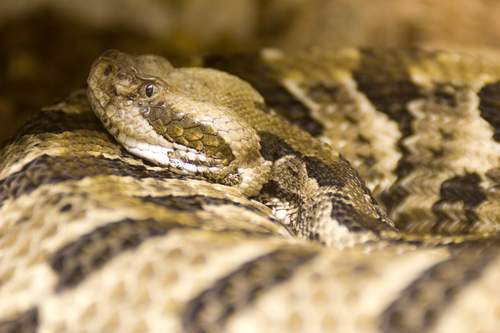 A new report, called Trade in South-East Asian Python Skins, was published by the International Trade Centre (ITC) with cooperation from the International Union for Conservation of Nature (IUCN) and TRAFFIC—a program maintained by the IUCN and World Wide Fund (WWF). The new report was published on November 27, 2012 and reveals about $1 billion worth of python skins are traded every year.
Alexander Kasterine, the Head of the ITC Trade and Environment Programme, states: "The report shows that problems of illegality persist in the trade in python skins and that this can threaten species' survival. The fashion and leather industry has a stronger role to play in supporting the Convention on International Trade in Endangered Species of Wild Flora and Fauna (CITES) and the developing countries to ensure supply is legal and sustainable."
Since law enforcement is not targeting the problem efficiently, the report stresses that the fashion industry needs to develop a tracing system to see where the products are coming from. Additionally, the tracing system needs to demonstrate that the product is legal and comes from an environment where harvesting of skins is sustainable. A similar permitting system exists, called CITIES, and the new supply chain tracing system would add to the efforts of CITIES.
The report announces there is a lack of transparency in the market. Indonesia, Malaysia, and Viet Nam are the biggest exporters, and about 70 percent of all python skins are re-exported through Singapore. The report suspects that large undisclosed stockpiles of skins could remain in Singapore because of a lack of screening.
The biggest importers of pythons skins are European Union countries—especially Italy, Germany, and France.
Tomas Waller, the Chair of IUCN Species Survival Commission's Boa and Python Specialist Group, states: "It would appear a substantial proportion of the skins in trade are sourced illegally from wild animals, beyond agreed quotas, and using false permits to launder the skins."
More than 20 percent of python skins from South-East Asia are marketed as captive-bred, but the report questions the amount of snakes bred in captivity. Furthermore, the report indicates that a large amount of slaughtered wild snakes are killed before they are old enough to breed. The report suggests that minimum skin size limits need enforced along with harvest numbers outside of captivity to maintain sustainability.
Current trade bans and not stopping the illegal harvesting of python skins, so the fashion industry and local authorities need to strengthen regulations before pythons become even more threatened.
The report referenced to in this article was funded by the Government of Denmark.
Source: International Union for Conservation of Nature